SILENT MOBIUS ZETA
AMARA ASANO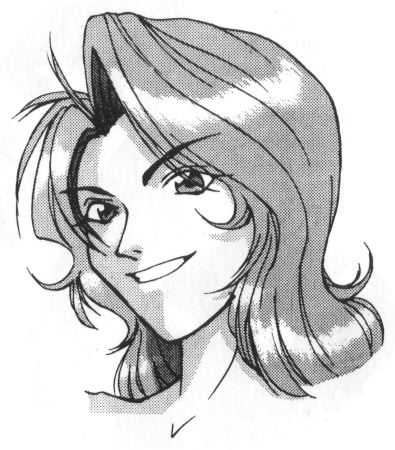 Val	CHA	Cost	Roll	Notes


15	STR	5	12-	200kg; 3d6
18	DEX	24	13-	OCV:  6/DCV:  6
15	CON	10	12-	
11	BODY	2	11-
15	INT	5	12-	PER Roll 12-
14	EGO	8	12-	ECV:  5
15	PRE	5	12-	PRE Attack:  3d6
16	COM	3	12-	
6	PD	3		Total:  10 PD/4 PDr
4	ED	1		Total:  8 ED/4 EDr
4	SPD	12		Phases:  3, 6, 9, 12
6	REC	0
30	END	0
30	STUN	3
Total Characteristics Cost:  81



Movement:

	Running:  7"/14"
		Swimming:  2"/4"



Cost	Powers & Skills


Combat Training:
16	Combat Skill Levels:  +2 with Combat
22	Martial Art:  Kenjutsu
	Maneuver		OCV	DCV	Damage
	Block			+2 	+2 	Abort
	Evade			+0	+5 	Abort
	Lightning Stroke	+2	+0	Weapon +2d6 (+1DC)
	Sacrifice Stroke	+1	-2	Weapon +4d6 (+2DC)
	Slashing Stroke		-2 	+1	Weapon +4d6 (+2DC)
	
24	"Battle Rage":  Aid 4d6 (max of 24 points) to STR, DEX, CON, PRE (+2), 
	1/2 END (+1/4), Self Only (-1/2), Full Phase (-1/2), Incantations (-1/4), 
	Side Effect:  Engraged 14-/8-, Psych:  Single Minded; Oblivious to 
	Surroundings (-1/2)

AMP Equipment:
39	AMK-02 GW Graviton Multipower:  126 Point Pool, 3 Shots (-1 1/4), OAF (-1)
2	u - Standard Setting:  RKA:  3 1/2d6 RKA, AoE:  One Hex (+ 1/2), +2 RMod, 
	STR MIN:  10
4	u - Hi-Power Setting:  RKA:  4d6, AoE:  Radius (+ 1), +2 RMod, STR MIN:  30
17	Freedom Arms .454 Casull:  2d6+1 RKA, +1 Stun (+1/2), -1 OCV, 
	5 Shots (-3/4), OAF (-1)
21	Katana:  1 1/2d6 HKA, +1 OCV, 0 END (+1/2), OAF (-1)
17	Stunstick:  EB 5d6, NND (Defense is being grounded or insulated or having a 
	non-human nervous system) (+1), +1 OCV, No Range (-1/2), 
	6 charges (-3/4), OAF (-1)
9	Drain:  3d6 (vs DEX), Linked to NND (-1/2), 6 charges (-3/4), OAF (-1)
5	AMP Armored Jacket:  Armor DEF 4 , Locations 8-14 (-1), OIF (-1/2)
6	AMP Boots/Shinguards and Vambraces:  Armor DEF 5, Locations 6-7 
	and 15-18 (-1), OIF (-1/2)

AMP Officer 

Skills


3	Perk:  AMP Police Powers
2	Perk:  Weapon Permit 
3	Bureaucratics 13-
3	Combat Driving:  Spinner 13-
1	Criminology 8-
3	Stealth 13-
1	TF:  Spinner
2	WF:  Pistols, Tonfa/Nightstick
3	Scholar
1	KS:  Criminal Law & Procedure 11-
1	KS:  Lucifer Folk 11-
1	KS:  Sorcery 11- 

Kenjutsu Traning:
2	Running:  +1" (7" total) END 1
1	KS:  Famous Samurai stories 11-
1	KS:  Kenjutsu 11- 
1	WF:  Swords

	

Skills


2	AK:  Los Angeles 11-
0	English (native)
4	Japanese (fully/lit)
2	KS:  Dancing (DEX) 13-
5	Seduction 13-
3	Streetwise 12-
227	Total Powers & Skills Cost
308	Total Character Cost:

150+	Disadvantages
	Distinctive Features:
5	AMP Uniform
5	Magic Aura when Aid is active (UnC, Limited Group)
20	Hunted:  Lucifer Folk (Mopow) 11-
20	Normal Characteristic Maxima
3	AMP Officer Package Bonus
	Psychological Limitation:
15	Reckless and Freespirited (C, S)
20	Despises Lucifer Folk (C, T)
10	Hedonistic tastes, likes to live "well" (C, M)
	Quirks:
1	Bi-sexual
1	Currently enamored of Katsumi Liqueur
5	Reputation:  AMP Officer 8-
13	Watched:  AMP, Subject to Orders (Mopow, NCI) 11-
40	Experience
308	Total Disadvantage Points

Background/History: Amara is a California native, born in LA to a Japanese-American father and a Scandanavian-American mother. According to Amara, her mother was a self-proclaimed nordic witch, while her father was a kendo master, who ran a school in the LA area. Amara's parents were killed in an entity attack, prompting Amara to apply to the newly established LA division of the AMP. After a somewhat rocky start, Amara has become a fully fledged officer of the AMP.
Personality/Motivation: Amara's "Battle Rage" manifests as a surge of sorcerous energy, easily detectable by those who can sense such things. Her parents death at the hands of the Lucifer Folk has left her with a deep rooted hatred of entities. In combat, she will show no mercy, doing her best to destroy them, with an almost fanatical disregard for her own safety. Her unusual upbringing also seems to contribute heavily to her freespirited and reckless attitude. Amara likes to live life in the fast lane, and it shows.
Powers/Tactics: Amara's powers center around a ritual originally taught to her by her mother. This ritual allows her to tap into certain inner reserves of power, and substantially increase her strength and overall physical prowess. There is a draw-back to this power, however, as it's use has a number of side effects. When her power (aka "Battle Rage") becomes active, Amara's eyes turn reddish, and almost glow, while Amara herself becomes possessed by a single-minded desire to destroy her enemies. Although she will not attack known allies, Amara will become somewhat mindless, do her best to bring down her opponent, and will generally be unresponsive to counter orders and commands. Because of this, Amara usually only activates this power as a measure of last resort.
Aside from her mother's instruction, Amara is also quite skilled with the katana, courtesy of her father's schooling in kendo and kenjutsu. Amara also carries a heavy .454 Casull revolver, preferring it over the standard issue blaster.
Appearance: Amara is fairly tall, standing 5'11" and weighing about 150 lbs. Long-legged and narrow waisted, Amara has a rather well-endowed figure. She has lightly tanned skin, gray eyes and a thick mass of black hair that falls past her shoulders. Normally, she wears the standard AMP uniform, with her katana slung through a loop in the equipment belt. The Gravition is worn at the small of her back, and the Casull is on the right hip. Off duty, Amara wears casual, loose clothing, usually of a revealing nature, especially in the summer.
---
Return to Silent Möbius Zeta